Departure Control System
ABOMIS Departure Control System (ABOMIS DCS)
ABOMIS Departure Control System
Today, DCS is considered a necessary tool to operate passenger processing and streamline passenger experience at the airport.
With the growing demand for improving passenger experience, DCS vendors always try to add more flexibility and customer tailored options in their systems. Currently, DCSs supply several check-in modules beyond desktop including mobile, kiosk, and Online check-in.
ABOMIS DCS is a fully IATA compliant solution for airports, airlines, and ground handlers regardless of their size. Our DCS is a comprehensive check-in/boarding control system for small and large operations that provides full functionality, security and streamlined passenger processing. ABOMIS DCS also supports remote self-service, mobile and online check-in. Moreover, our DCS provides an efficient integration with widely-known CUPPS, CUTE and CUSS common use platforms. Our Departure Control System allow aviation industry operators to provide their customers with the smoothest passenger handling at a fraction of cost compared to other traditional DCS software.
Taking into account our cost-efficiency and compliance with IATA's standards, small and medium-size airports, airlines and ground handlers can conveniently implement ABOMIS DCS solution to increase their productivity and revenue, while ensuring enhanced customer satisfaction at the airport.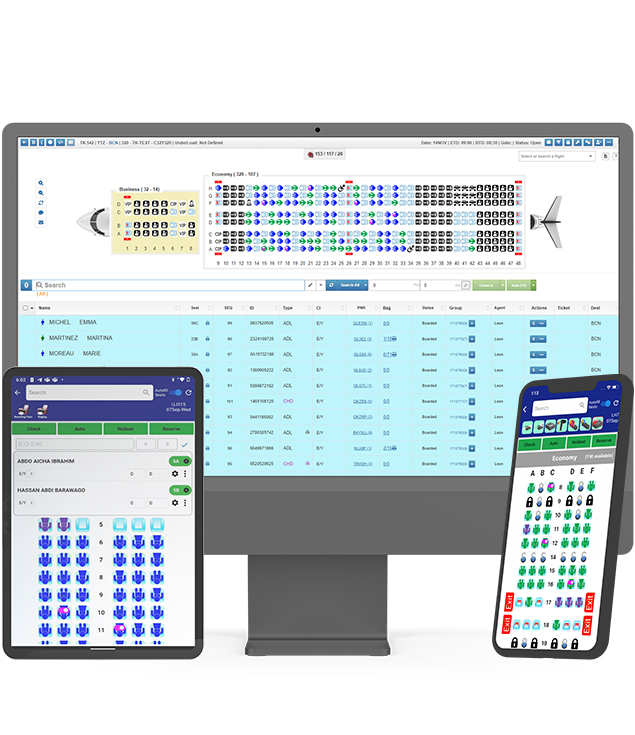 Beside the low cost of ownership factor, ABOMIS DCS provides other distinct features:
Graphical Single Page that contains all functionalities on one page.
User friendly interface
Multi-Platform Support.

Ability to run application on all platforms. (Personal computers, Laptops, Tablets, Smart phones with Android and IOS Oss.)

Low implementation and training costs.
Supporting AEA (IER models, Custom, Epson, Fujitsu, …) and non-AEA printers based on airport facilities and advantages.
Certified on RESA, ARINC and SITA CUTEs and ability to run on that platforms.
CUPPS compliance application and can run on all CUPPS support interfaces.
TIMATIC
Certified on Dubai SITA iAPP, CBSA iAPP and England iAPP certification on progress.
Ability to send batch API message to countries authorities and certified on some countries for example: Switzerland, Croatia, Poland, Latvia and etc.
Connecting to ABOMIS WB module and ability to print load sheets linked to check-in and unlink.
Sending and receiving all IATA standard messages.
Paperless check-in! by Sending passenger's barcoded boarding-pass via SMS and Email and have ability to add to their wallet and board to aircraft by scanning them.
Self-check-in / online check-in compatibility.
EMD management, print and payment by passenger or at sale office.
Ability to attach photo on passenger or flight.
Magic search on retrieving passenger's name.
Feel free to reach out to us
Handling all Customs and Immigration Requirements, APIS and APP
ABOMIS DCS fulfills necessary customs and immigration requirements, including the Advance Passenger Information System (APIS) and Advanced Passenger Processing (APP).
Certified for Common Use Environment
ABOMIS DCS is certified on most CUTE (Common Use Terminal Equipment), CUPPS (Common Use Passenger Processing System), and CUSS (Common Use Self-Service) providers (e.g., RESA). ABOMIS DCS application can also be available on non-CUTE platforms as a cost-reduction method.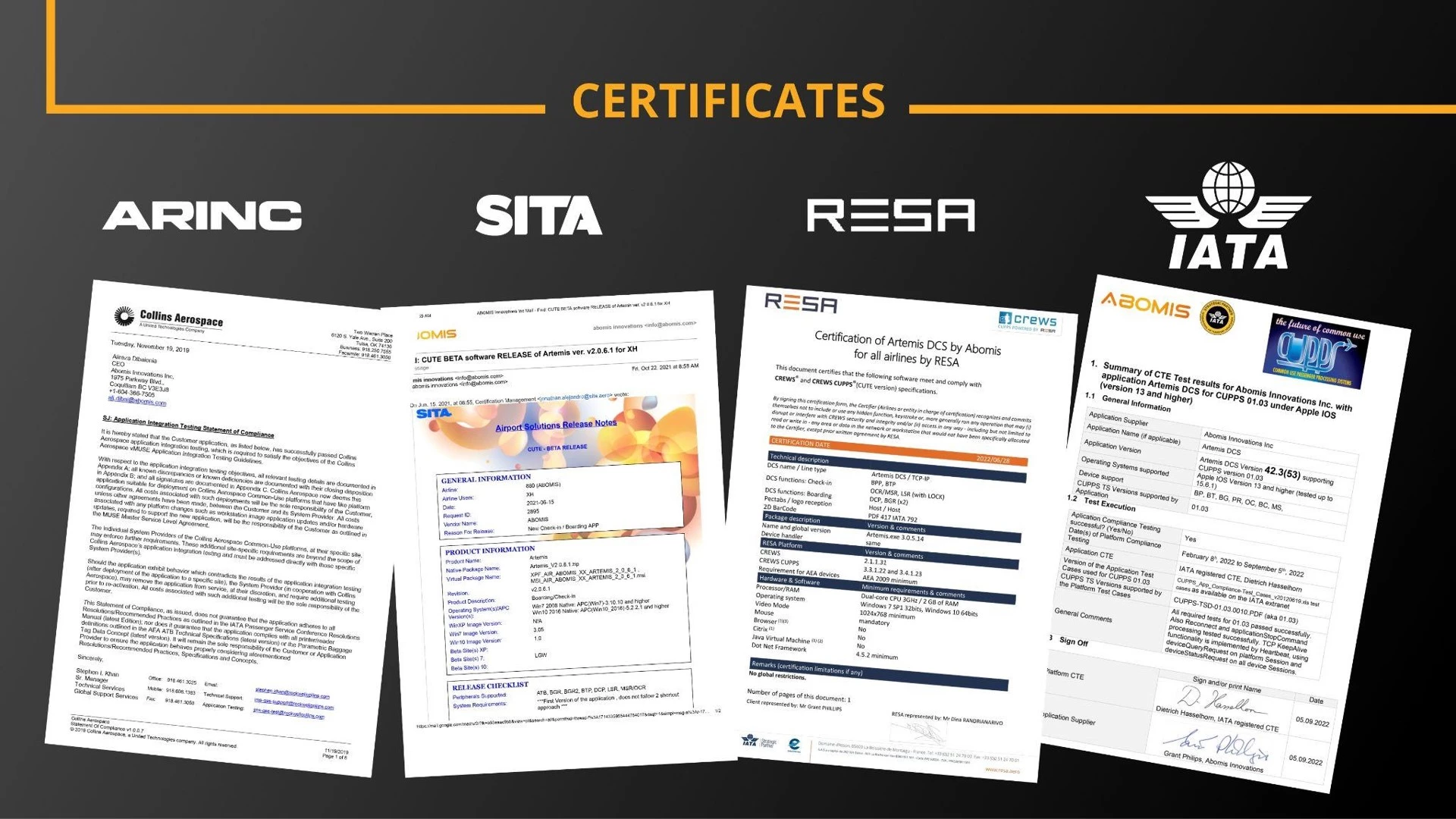 Complies with Standard IATA Messages
Our solution properly complies with standard IATA teletype messages. Our DCS solution is able to receive PNL and ADL messages through type-b and email, or as an excel file. Furthermore, ABOMIS DCS can send the following output messages through type-b or email:
Our DCS solution strongly focuses on the Check-in and Boarding user interfaces and ensures that passenger handling processes are carried out as efficiently as possible for an effortless passenger journey. For this purpose, passengers can benefit ABOMIS DCS's different Check-in modules:
Counter Check-in
Kiosk Check-in
Web Check-in
Mobile Check-in
Customized DCS Suited for Ground Handlers
ABOMIS has developed a customizable departure control system for ground handlers to manage airline operations with a single tool. Thanks to its seamless integration, ground handling agents can easily integrate ABOMIS DCS with ABOMIS and non-ABOMIS sources. We can customize our solution for ground handlers to meet their customer needs and policies. Our integrated DCS and load control gives you the ability to handle the last-minute flights in a fraction of time. Load control agents can also check W&B calculations and manually input weight and balance information for the aircraft. Also, ground handlers will be able to see the last updates made by ground-handling agents, load control agents, and departure staff in real-time.
Lowest charge per passenger
Lowest cost implementation
IATA standard interface
Highly configurable
Simple training
Free updates